Handling and storage of all kind of grain stuff, feeding stuff and oil-bearing seeds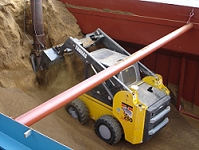 ELAG offers handling facilities and storage capacities for wheat, oil seeds and feedstuff. These facilities are located in the Emder outer habour, which is an ISPS certified port.
Appropriate handling facilities can load and unload trucks, inland waterway- and seagoing ships. With its high performance facilities and highly competent employees ELAG is well equipped for everything the wheat business demands.