24.08.2012 - Via Emden to the World Championship - EVAG Ships Gliders to Houston
EVAG recently handled what was anything but a run-of-the-mill shipment of gilders in cooperation with Volkswagen Logistics. To be able to complete in the 32th Glider World Championships, which took place from 28th July to 19th August in Uvalde / Texas (USA), the gliders might well have been loaded into containers, if this transport method hadn?t repeatedly led to damage to the sensitive machines in the past. This is what prompted the German team, led by double world champion Susanne Schödel to choose the port of Emden and to ship their gliders as rolling cargo on a RoRo carrier. After all there is a regular service by Volkswagen Logistics from Emden which also covers Houston harbor to ship passenger cars by the Volkswagen Group in the USA. The offer of shipping via Emden spread like wildfire among the other European World Championship participants from countries such as Austria, Italy, Belgium, Lithuania and the Netherlands, and this meant that they also sent their transport requests to Emden. Planning of the shipment was perfected by our staff in cooperation with the glider pilots. In the meantime, a total of 30 trailers with gliders, distributed across multiple vessels have been shipped to the USA by us via the port of Emden.
After the World Championship, the gilders, which weigh about 800 kilos with trailer, will be shipped back to Emden as RoRo cargo where we will gain tranship them.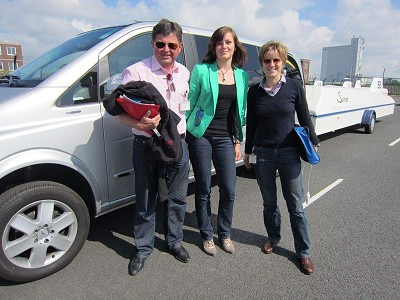 << back