16.05.14 - "Wetten, dass... ?" outdoor challenge at EVAG Terminal 2 in Emden
("Wetten, dass ...?" is a popular TV game show in Germany)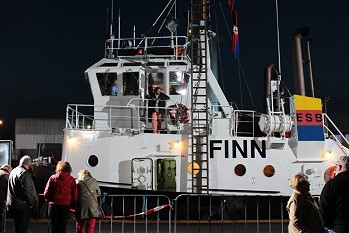 On 5 April this year, two captains from East Frisia were the candidates in the "Wetten, dass ...?" outdoor challenge. The task that Uwe Janßen (49) pilot with the Emden pilot's guild, and Guido Roß (34) a tug captain with ESB Emder Schlepp-Betrieb GmbH from Emden took on was to manoeuver a small ship into a bottle at EVAG Emder Verkehrs und Automotive Gesellschaft mbH's Terminal 2 with the help of a large tug.
During the 212th edition of "Wetten, dass ...?", a ship measuring just 10 cm was shunted into a bottle in just 4 minutes by the powerful, 2,800 HP tug "Finn". The idea for this came through a joint parking manoeuver at the Port of Emden about one and a half years ago. The extreme challenge lay in the extreme differences of mass: the 250 tonne tug had to manoeuvre a miniature ship weighing less than 200 g and measuring just 10 cm into a bottle. While tug captain Guido Roß stood on the tug's bridge and steered the vessel, his friend, pilot Uwe Janßen gave him directions from the bow in the form of terse and concise commands. Literally at the last minute, this exciting challenge was won. The two competitors were supported by some 650 followers: family members, friends, colleagues and employees of the companies involved.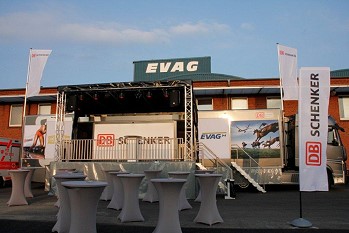 Praise came from production manager Thomas Adam for the perfect conditions in the town of Emden, as well as for the location at the EVAG terminal.
Emden hosted "Wetten, dass ...?" four times between 1990 and 1995 (with the Nordseehalle as the venue). The broadcast from the port on 5th April 2014 may well have been the farewell performance of "the former flagship of German television" for Emden.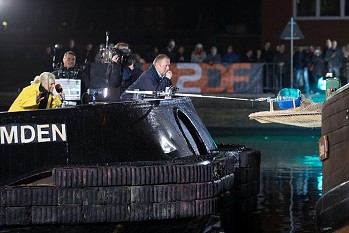 << zurück