14th October 2015 - Education Fair in October 2015
The commercial college (BBS II) in Emden hosted the 12th Chamber of Commerce (IHK) for East Frisia and Papenburg Education Fair on 14th October 2015. Following a declining trend in recent years, this year's show saw a record number of exhibitors. This trend was also noted by attendees. The majority of exhibitors was extremely satisfied with the quality of the talks at the individual information stands by the various training companies.
We also noted great interest by people seeking traineeships at our stand. Many detailed questions were asked about our company's curriculum, and they were answered with pleasure and great dedication by our apprentices and their training supervisors.
In 2016, EVAG is again offering highly qualified traineeships for clerks/specialists in forwarding and logistics services as well as vehicle painters.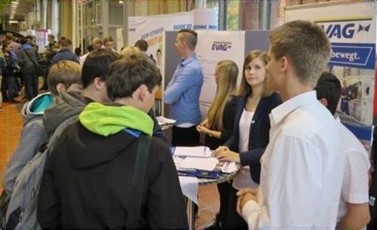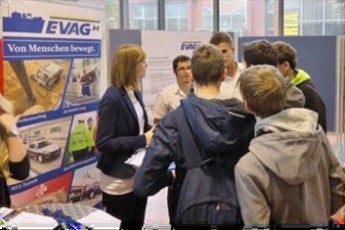 << back