Emden Port
Our cargo handling facilities
EVAG has its own cargo handling facilities and extensive equipment in the Port of Emden.
The approximate 1,100,000 m² of open space is paved, fenced-in and ISPS conform (International Ships and Port Security Code).
A great majority of our warehouses are heated with more than 36,000 m² area available for storage. Many of these comply with the requirements for industrial workstations.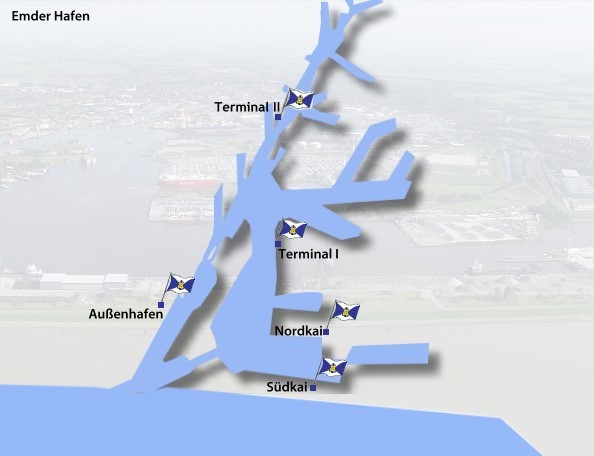 Vessels with the following dimensions can enter the Port of Emden without any problems:
Nautical requirements
maximum length:

Outer harbour (Außenhafen) 240 m
Terminal I 160 m (with exception 190 m)
Nordkai 240 m (with exception 250 m)
Südkai 240 m (with exception 250 m)

maximum beam:

Emden sea locks (Große Seeschleuse) Dimensions 260 x 40 m
max. experienced dimensions 256 x 36,5 m
max. permitted inward draft 10,50 m
(however, call your agent for actual situation)
Nesserlander locks – 180 x 18 m

maximum draught:

Outer harbour (Außenhafen) 9,5 m
Terminal I 8,0 m
Nordkai 10,50 m
Südkai 10,50 m

the most westerly German seaport
Europe's third largest port for car transhipments