06.01.2010 - End of free trade zone at North Quay in Emden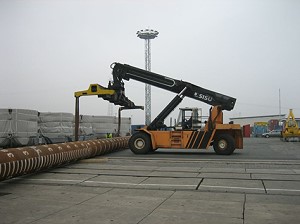 In 1759, King Friedrich II of Prussia bestowed on the city of Emden "the Patent of Porto Franco Law" for sea trade. After 259 years this tradition is coming to an end. On January the first 2010 the free trade zone in Emden was annulled.
From this day on E.U. goods will be able to be stored and handled on our multifunctional North Quay Terminal without any form of restrictions from the customs authorities. This measure greatly simplifies our storage and handling activities on our 22,000 square metres working area. Further benefits are also in operations as well as in administration areas. The terminal on the North Quay encompasses a jetty area of 400x40 metres as well as railway tracks on the landside of 240 metres and 440 metres directly by the waterside. We have at our disposal staff facilities and modern equipped offices with internet facilities which can be used by our customers on request. Because of the long history of precious usage as a free port area the terminal is very safe and well guarded.
Our mobile crane with a lifting capacity of 80 tons, together with a comprehensive range of other specialised equipment enables for transshipment optimal loading. Furthermore, there is a container bridge with a loading capacity of 80 tons which is at our disposal for transshipment on the seaward side. Experienced crane operators deal competently with every form of mass cargo as well as general cargo
<< back